WARRIOR:
The Amazing Story of a Real War Horse is available from Racing Post Books.
Click here to buy 'WARRIOR'
from the Racing Post's online shop.
WARRIOR:
The Amazing Story of a Real War Horse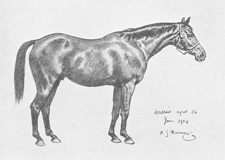 Here is Munnings's second study of Warrior which, he regards as a better portrait. © Sir Alfred Munnings Art Museum
Warrior: the Amazing Story of a Real War Horse is the true account of a remarkable horse told by his owner General Jack Seely. No horse and rider can ever have been through such a sustained series of adventures as Warrior and Jack Seely.
They walked off the boat together at Le Havre in August 1914 to join the infamous Western Front, surviving four years of bombs and bullets to lead a cavalry charge in 1918 before returning home unscathed to the Isle of Wight where they rode on together until 1938, their combined ages totalling 100.
The book tells the whole history of Warrior from his birth on the Isle of Wight to his amazing life as a famous war horse and how a combination of both the horse's extraordinary character and some unbelievable twists of fate, helped him survive a war which claimed the lives of eight million horses.
In 1934 Jack Seely wrote the story as "My Horse Warrior" illustrated by the legendary Sir Alfred Munnings who had been official War Artist to the Canadian cavalry which Seely and Warrior had led.
Munnings first painted Warrior at the front in February 1918 and again at home on the Isle of Wight after the war. Warrior: The Amazing Story of a Real War Horse contains his original line drawings and paintings.
This new edition is introduced by Jack Seely's grandson the writer and broadcaster, Brough Scott, with a preface by Sir Peter O'Sullevan.
"It is a special privilege for this nonagenarian to commend this remarkable story. Special because my father gave me the book on publication in 1934 when I was already sixteen years into a lifelong attachment to the horse."
Sir Peter O'Sullevan.
BBC racing commentator and journalist