Isle of Wight
Mottistone Manor as it is today: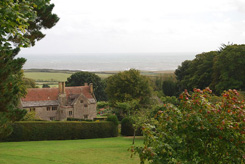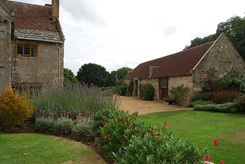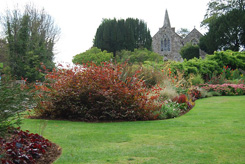 Brooke Beach as it is today:
The Field where Warrior ran as it is today: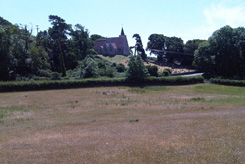 In the footsteps of Warrior
The West Coast of the Isle of Wight, where Warrior was born, lived and died, remains one of the few places in England that is largely unchanged today. It is possible to follow the 'Warrior Trail' and almost feel the presence of the old horse galloping beside you.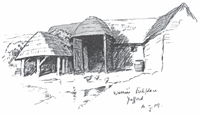 Warrior's birthplace, Yafford
Yafford
"Yafford is one of the most delightful places that one could choose to possess as a birthplace" (Jack Seely)
Warrior was born in Yafford. Today the place is a small hamlet situated between the beautiful Tennyson Downs and the quiet seaside bays along the West coast of the Isle of Wight.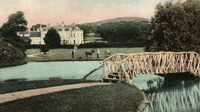 Brooke House
Brooke
As a youngster Warrior roamed the fields between Brooke and Mottistone and ran as a yearling in 'Sidling Paul', the field directly opposite the Church at Brooke. Warrior learned to swim in the rough waters of Brooke Beach. Both the village and beach at Brooke (today called Brook) remain largely unchanged.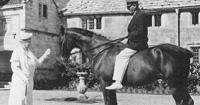 Queen Mary with Warrior at Mottistone
Mottistone Manor
Jack Seely and Warrior moved to Mottistone Manor shortly after the war. Warrior lived here until his death in 1941. Today Mottistone is a National Trust property with the house and gardens well worth a visit www.nationaltrust.org.uk/main/w-mottistone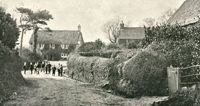 Sun at Hulverstone
Sun at Hulverstone
Hulverstone is situated between Brooke and Mottistone, a beautiful spot for lunch with outstanding views down to Brooke and Compton Beach. These are the same views that Warrior would have seen most days of his life on the Isle of Wight.
www.sun-hulverstone.com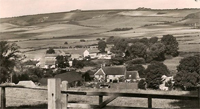 Downs
Walk or ride on Compton Down, look across at the Solent on one side and the Channel on the other, and you are drinking in the same views, treading the same turf as Jack Seely and Warrior did all those years ago.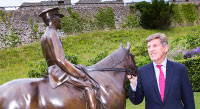 Carisbrooke Castle
Visit Carisbrooke Castle to see the stunning Philip Blacker bronze of Warrior which stands in the Princess Beatrice Garden. This was commissioned by the family of General Jack Seely and unveiled in August 2014.

For further details on Warrior and the Isle of Wight, contact the Isle of Wight Tourist Board 01983 813813 or email us via our contact page.