Jack Seely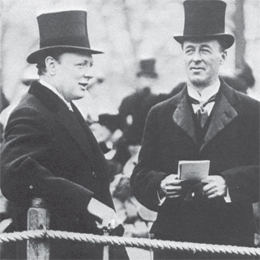 Jack Seely was Winston Churchill's great heroic friend and sat alongside him in Asquith's government from 1911 to 1914.
He later commanded the Canadian cavalry on the Western Front during the First World War with Warrior as his talisman and the pair led a cavalry charge against the German advance in 1918.
His book "My Horse Warrior", with illustrations by Sir Alfred Munnings who had first painted horse and rider at the front line in February 1918, was published in 1934.
100 Years between them. Warrior (30) and Jack Seely (70) trot out at Mottistone in May 1938
"Galloper" Jack
by Brough Scott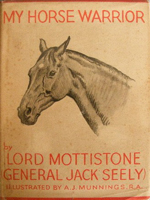 My Horse Warrior
By the time Seely came to write My Horse Warrior (the original title of the book) in 1934 he had already lived about five lives and had exhibited many magnificent qualities. However, those who have laughed at the story of him supposedly recommending Warrior for the VC under the simple citation, "He went everywhere I went", know that it would not have been wholly undeserved – for either of them.
Jack Seely, born at Brookehill Hall near Nottingham on 31st May 1868, was indeed a very brave man. Despite the classic Harrow to Cambridge to The Bar gentleman's progress, the proudest achievement of his early life was to row in the lifeboat at Brooke next to his family's home in the Isle of Wight and on 19th October 1881 he won the French "Medaille d'Honneur" for swimming out with a lifeline to the wrecked "Henri et Leontine".
It was a life of privilege, of service – he was to become an MP and sit in the Cabinet alongside his great friend Winston Churchill – and of horses. As part of his recovery from the injuries sustained in the "Henri et Leontine" drama, Seely sailed to Wellington, New Zealand, in 1892 and hired horses to trek up through North Island, where rivers still had to be swum and Maori rulers placated.
As part of his service with the Hampshire Yeomanry he took his little white Arab Maharajah to Southampton docks in 1900 and embarked with 500 men for the Boer War, albeit having had to dye him brown after being first refused for "reasons of camouflage".
How Jack Seely did it all, how he and Maharajah slept side by side in the open Veldt, how he was elected MP whilst still in South Africa, how he made common cause with Winston Churchill, how political drama was followed by military peril and final return have all been related by him in a series of not exactly understated volumes of autobiography bearing such titles as Adventure and Fear and Be Slain.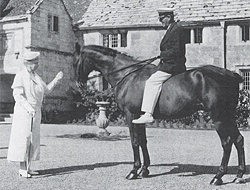 Queen Mary With Warrior And Jack Seely At Mottistone During Cowes Week, 1934
For long the received wisdom was to scoff at such apparently blimpish vision, but in recent times there has been a more forgiving mood and ten years ago I went to explore the glory and the sadness of this particular son of "Imperial Certainty" in my book Galloper Jack. Writing it was both a sobering and uplifting experience, revisiting some terrible dramas but being re-challenged by what the spirit of man can do.
And what a horse can do too. Warrior has long been a legend in our family and his ghost trotted with me from page to page. So much so that as public interest latched on to the wonders of Michael Morpurgo's War Horse story, I prepared to revisit Warrior and tell the tale myself.
But what a presumption when it has been already told by the man who shared Warrior's life from cradle to his 33-year-old grave. A man who was able to call on his friend Alfred Munnings, the renowned war artist and horse painter, to create unique illustrations to illuminate the text and which thanks to the Munnings Trust are reproduced again in 2011.