Warrior Timeline
1908 Spring:


Warrior born at Yafford, Isle of Wight


1914 11 August:


Warrior lands at Le Havre to join the Allies on the Western Front


1915 February:


Warrior returns to the UK to join Canadian Cavalry on Salisbury plain


1915 5 May:


Warrior first off boat in Boulogne


1915


Warrior with Canadian Cavalry in the trenches near Ypres


1916 1 July:


Warrior waiting to "gallop through the G in Gap" in the Battle of the Somme


1917 March:


Warrior in cavalry attack at Guyencourt


1917 September:


Warrior stuck in mud at Passchendaele


1917 20 November:


Warrior in front line of big Cambrai attack


1918 February:


Alfred Munnings arrives to paint the already legendary Warrior


1918 21 March:


Last great German offensive. The Canadian Cavalry start circular retreat


1918 30 March:


Warrior leads vital charge at Moreuil Wood near Amiens


1918 1 April:


Seely gassed – Warrior stays as Patterson's charger


1918 December:


Warrior back to Brooke for Christmas


1919 19 July:


Victory Parade in Hyde Park


1922 30 March:


Warrior wins IOW point-to-point four years to the day since he led the Moreuil charge


1934


War Veteran Show at Olympia
Munnings at Mottistone to paint Warrior for book


1938


Warrior and Seely ride – 100 year combined ages


1941 Easter:


Warrior dies at Mottistone


2011


Warrior: The Amazing Story of a Real War Horse is published by Racing Post Books


2014


9 July: Philip Blacker bronze statue of Warrior and Jack Seely unveiled at Carisbrooke Castle


2014:


2 September: Warrior awarded PDSA Dickin Medal at Imperial War Museum
"The greatest Horse that ever lived…"
by Brough Scott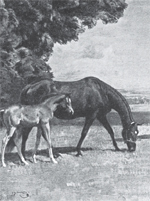 Munnings never saw Cinderella but he has drawn an imaginary portrait of her with Warrior when a foal. © Sir Alfred Munnings Art Museum
Warrior was a bay thoroughbred gelding that my grandfather Jack Seely bred from his own mare Cinderella and who was foaled in the spring of 1908 a few miles from our then family home at Brooke in the west of the Isle of Wight. In many ways the real life Warrior is the social pole reverse of Michael Morpurgo's fictional Joey, the star of War Horse who has so beguiled first readers, then theatre goers and went global in Steven Spielberg's film. And yet...
Joey is the farmboy's friend who is bought at market, conscripted into the Army, is lost and battered through terrible ordeals on the Western Front before a triumphantly happy ending.
Warrior is the charger the General bred and rode himself for over thirty years including through all the major battlefields of the Western Front.
He was an equine hero who had grooms and batmen to look after him and whose other riders, then and later, included Judges, Field Marshalls, jockeys and even my mother when her arms were feeling strong. Very different worlds.
And yet their single most attractive quality is one that is equally shared. It is the simple, unspoken, uncomplaining nobility of the horse from which men and women have drawn such inspiration down the ages. Warrior may have been at the head of the column not in the ranks, but that only made him more of a target. He may sometimes have had a roof over his head rather than the open sky, but it remains a miracle how he survived all four years of the war from Ypres, to the Somme, Passchendaele, and Cambrai before finally himself leading a cavalry charge which crucially checked the great German offensive in the spring of 1918. The date was 30th March – four years to the day he went on to win the Lightweight race at the Isle of Wight point-to-point. Not for nothing did the Canadian cavalrymen whom he led dub him "The horse the Germans couldn't kill".
His story is one of its time and is quite inconceivable now. The book is also written in the argot of the period by a man who epitomizes all the old Imperial 'King and Country' certainties which seem so outdated now. But at the core of the tale is a belief and a truth that has been worth proclaiming since we humans first tried to form a partnership with our four-legged friend. It is that some of the greatest experiences in history have been achieved from the back of a horse.